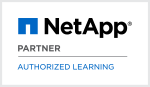 DevOps in the Data Center (DODC)
Quién debería asistir
The course is primarily targeted at developers and storage administrators.
Prerrequisitos
Basic DevOps Programming skills
Objetivos del curso
Introduce the DevOps concepts
Provide an opportunity to work with tools.
Provide a brief introduction to using DevOps in the data center and a foundation for further vendor-specific learning.
Contenido del curso
This Fast Lane developed unique course gives you an introduction to some of the leading open-source tools used to virtualize, manage and automate today's data center. You will also learn some of the key NetApp features that support the DevOps tools. More than fifty percent (50%) of this course is comprised of real world hands-on labs focused on using the important tools taught in class.
You will learn to use:

Docker (containerization): Containers can be thought of as very light-weight Virtual Machines. Users can generate containers in a few seconds instead of the minutes it can take to launch a VM and do so at very little cost. Each container creates an isolated execution environment enabling software to run in a predefined state. This greatly facilitates the process of combining and using software from different sources and simplifies the deployment and installation of software.
Kubernetes (orchestration): Kubernetes manages "fleets" of containers created using Docker and enables your application to scale from 1 to many containers based on user demand. Kubernetes also automatically distributes containers across multiple execution nodes for increased performance and parallelism, and replaces any failed instances to ensure reliability.
Ansible (automation): Ansible is an advanced multi-system scripting tool that deploys configuration changes to many remote systems.
Cloud Volumes ONTAP: This is a "virtual instance" of ONTAP that runs as a VM in a cloud environment. You can easily migrate storage to the cloud while retaining all of the features of ONTAP you need: snapshots, SnapMirror, and so on.
Classroom training
Duración 2 días
Presionar el boton sobre el nombre de la ciudad para reservar
Calendario
Fast Lane llevará a cabo todos los cursos garantizados sin importar el número de participantes, excepto por razones de fuerza mayor u otros eventos inesperados, como e.g. accidentes o enfermedad del instructor, que eviten que el curso se realice.
Este es un curso en línea Guiado por un Instructor
América del Norte
Estados Unidos de América
Oct 21, 2019 - Oct 22, 2019
Entrenamiento en línea
Zona Horaria: US/Eastern
Lenguaje del curso:

Inglés
garantizado!
Nov 18, 2019 - Nov 19, 2019
Entrenamiento en línea
Zona Horaria: US/Central
Lenguaje del curso:

Inglés
garantizado!