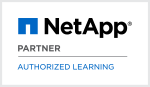 Data ONTAP 7-Mode Administration (D7ADM)
*SPECIAL OFFERS*
Web Based Training including several FREE modules that support this course
Quién debería asistir
This course is intended for NetApp customers, partners and employees who provide basic support and perform administrative functions of the Data ONTAP 8.2 operating system.
Prerrequisitos
Students who attend this course should have a background in system administration for UNIX® or Microsoft® Windows® operating systems and/or Data ONTAP 7-Mode Fundamentals (WBT)
Objetivos del curso
By the end of this course you should be able to:
Identify the various components of a NetApp storage environment
Install and perform the setup configuration of Data ONTAP
Perform basic administration on a storage system
Explain and configure physical and logical storage
Identify and configure client protocols
State virtualization techniques available in Data ONTAP
Describe Snapshot copies and space consumption in Data ONTAP
Discuss backup methods available in Data ONTAP
Follow On Courses
Contenido del curso
Welcome to the NetApp® Data ONTAP® 7-Mode Administration course. Data ONTAP 8 is the next generation data storage operating system from NetApp. Data ONTAP 8.2 builds on the stability and reliability of the Data ONTAP 8 operating system and provides new functionality that sets it apart from all of the competition. This five-day instructor-led course enables you to perform basic support and administrative functions on a NetApp storage system running the Data ONTAP system operating in 7-Mode.
Classroom training
Duración 5 días
Precio
(sin incluir impuestos)
Panama:

US$ 2.250,-

Argentina:

US$ 2.250,-

Brasil:

US$ 2.250,-

Chile:

US$ 2.250,-

Colombia:

US$ 2.250,-

Costa Rica:

US$ 2.250,-

México:

US$ 2.250,-

Perú:

US$ 2.250,-

Venezuela:

US$ 2.250,-
Fechas y Registro
Entrenamiento en línea
Duración 5 días
Precio
(sin incluir impuestos)
Fechas y Registro
Presionar el boton sobre el nombre de la ciudad para reservar
Calendario
Fast Lane llevará a cabo todos los cursos garantizados sin importar el número de participantes, excepto por razones de fuerza mayor u otros eventos inesperados, como e.g. accidentes o enfermedad del instructor, que eviten que el curso se realice.
Este es un curso en línea Guiado por un Instructor
Este es un curso FLEX, que es entregado tanto virtualmente como en el salón de clase.