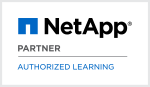 ONTAP MetroCluster Installation (MCCIIW)
Quién debería asistir
NetApp employees, partner professional service implementation engineers and customers
Objetivos del curso
By the end of this course, you should be able to:
Describe the major architectural components of a MetroCluster environment
Cable nodes, back-end FC switches and FibreBridge devices
Set up bridges and back-end FC switches
Configure the clusters at both sites in a MetroCluster environment
Set up a MetroCluster configuration and serve data to clients
Detect and recover from failures in a MetroCluster environment
Install and configure Tiebreaker software
Contenido del curso
MetroCluster software is a unique high-availability and disaster-recovery solution. In this course, you learn how to cable and set up a MetroCluster environment. Using active, participatory exercises, you practice the configuration and verification steps. You also learn how to identify component failures and practice recovery steps
Classroom training
Duración 2 días
Presionar el boton sobre el nombre de la ciudad para reservar
Calendario
Fast Lane llevará a cabo todos los cursos garantizados sin importar el número de participantes, excepto por razones de fuerza mayor u otros eventos inesperados, como e.g. accidentes o enfermedad del instructor, que eviten que el curso se realice.
Este es un curso en línea Guiado por un Instructor
América Latina
Brasil
Nov 11, 2019 - Nov 12, 2019
Entrenamiento en línea
Zona Horaria: America/Sao_Paulo
Lenguaje del curso: Portugués
México
Oct 14, 2019 - Oct 15, 2019
Entrenamiento en línea
Zona Horaria: America/Mexico_City
Lenguaje del curso: Español