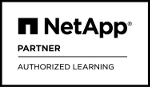 ONTAP MetroCluster Installation (MCCIIW)
Quién debería asistir
NetApp employees, partner professional service implementation engineers and customers
Certificaciones
Este curso es parte de las siguientes Certificaciones:
Prerrequisitos
Basic SAN knowledge
Completion of ONTAP PS Professional Compliance Program or an equivalent program
Objetivos del curso
By the end of this course, you should be able to:
Describe the major architectural components of a MetroCluster environment
Cable nodes, back-end FC switches and FibreBridge devices
Set up bridges and back-end FC switches
Configure the clusters at both sites in a MetroCluster environment
Set up a MetroCluster configuration and serve data to clients
Detect and recover from failures in a MetroCluster environment
Install and configure Tiebreaker software
Contenido del curso
MetroCluster software is a unique high-availability and disaster-recovery solution. In this course, you learn how to cable and set up a MetroCluster environment. Using active, participatory exercises, you practice the configuration and verification steps. You also learn how to identify component failures and practice recovery steps
Entrenamiento en línea
Duración 2 días
Precio
Consulta precio y disponibilidad
Classroom training
Duración 2 días
Precio
Consulta precio y disponibilidad

NetApp Training Units:

24 NTU




NTU puede no tener el valor de rescate si es usado en un pais diferente a el que fueron adquiridos
Click on town name or "Online Training" to book
Calendario
Instructor-led Online Training: Este es un curso en línea Guiado por un Instructor
Este es un curso FLEX, que es entregado tanto virtualmente como en el salón de clase.