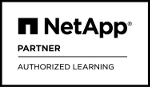 OnCommand Insight: Business Insights (OCIBI)
Quién debería asistir
Customers
Infrastructure Engineer
NetApp Partners
Sales Engineers
Objetivos del curso
Describe general organizational-based reporting needs
Use queries, widgets, and dashboards to display day-to-day operational reporting information
Describe the OnCommand Insight data warehouse structure (DWH)
Address business reporting requirements relating to chargeback, virtualization, and storage pool topics
Describe where to find data warehouse reference documentation and how to maintain a healthy data warehouse
Contenido del curso
In this course you will become familiar with some of the most important features of OnCommand Insight relevant to the day-to-day management, monitoring, and trouble-shooting of data infrastructures. This course concentrates on the reporting features of OnCommand Insight and the OnCommand Insight Data Warehouse. This course demonstrates how to use OnCommand Insight to perform operational reporting that aid in daily administrative tasks. This course will also demonstrate how to use IBM Cognos Workspace Advanced to perform Business Reporting. You will also learn how to create customized reports and a basic understanding of how to extend Insight to meet other business reporting needs.
Entrenamiento en línea
Duración 2 días
Precio
Consulta precio y disponibilidad
Classroom training
Duración 2 días
Precio
Consulta precio y disponibilidad

NetApp Training Units:

24 NTU




NTU puede no tener el valor de rescate si es usado en un pais diferente a el que fueron adquiridos
Click on town name or "Online Training" to book
Calendario
Instructor-led Online Training: Este es un curso en línea Guiado por un Instructor
Este es un curso FLEX, que es entregado tanto virtualmente como en el salón de clase.
América del Norte
Estados Unidos de América
Canadá
Entrenamiento en línea

09:00 Canada/Central

Inscripción

Entrenamiento en línea

09:00 Canada/Central

Inscripción
Asia-Pacífico
Australia
Entrenamiento en línea

Zona Horaria: Australia/Melbourne

Inscripción