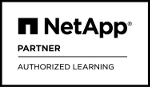 OnCommand Insight: Intelligent Operation (OCIIO)
Quién debería asistir
This course is intended as an introductory course for end users, as well as internal NetApp sales and partner resellers.
Prerrequisitos
OnCommand Insight Technical Overview (Recommend/not required)
Objetivos del curso
Create near-time visual representations of data infrastructure components
Create Storage Area Network infrastructure policies and alerts
Create data infrastructure performance policies and alerts
Troubleshoot performance issues within a data infrastructure
Associate compute components with applications for application infrastructure performance monitoring and troubleshooting
Integrate new assets into an OnCommand Insight environment
Contenido del curso
OnCommand Insight: Intelligent Operation is a 2 day course that allows you to become familiar with some of the most important features of OnCommand Insight relevant to the day-to-day management, monitoring and trouble-shooting of data infrastructures. You will learn the features of OnCommand Insight that aid in daily administrative tasks, specifically related to common storage administration issues and the features useful to resolving those issues. You will also learn how to add new assets to an OnCommand Insight monitored infrastructure. This course will support OCI version 7.2 and targets those who are responsible for using OCI for Diagnostic Analytics around ensuring availability, troubleshooting the environment, resolving issues, meeting service levels and removing risk.
Entrenamiento en línea
Duración 2 días
Precio
Consulta precio y disponibilidad
Classroom training
Duración 2 días
Precio
Consulta precio y disponibilidad

NetApp Training Units:

24 NTU




NTU puede no tener el valor de rescate si es usado en un pais diferente a el que fueron adquiridos
Click on town name or "Online Training" to book
Calendario
Instructor-led Online Training: Este es un curso en línea Guiado por un Instructor
Este es un curso FLEX, que es entregado tanto virtualmente como en el salón de clase.
América del Norte
Estados Unidos de América
Canadá
Entrenamiento en línea

08:30 Canada/Central

Inscripción

Entrenamiento en línea

08:30 Canada/Central

Inscripción
Asia-Pacífico
Australia
Entrenamiento en línea

Zona Horaria: Australia/Melbourne

Inscripción