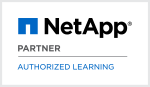 Implementing Oracle on NetApp Storage Systems (ORONSS)
Quién debería asistir
Anyone familiar with Oracle database servers and NetApp storage systems is considered a typical student of this course.
Prerrequisitos
Architecting Oracle on NetApp Storage (WBT)
Data ONTAP Cluster-Mode Fundamentals (WBT)
Objetivos del curso
By the end of this course, you should be able to:
Describe key customer problems attending Oracle solutions and the advantages of implementing Oracle solutions on NetApp technology to solve these problems
Describe key architecture decisions for planning the deployment of Oracle on NetApp storage systems operating in Data ONTAP 7-Mode or clustered Data ONTAP
Set up NetApp clustered Data ONTAP storage systems for Oracle databases
Install, configure and set up Oracle servers and Oracle databases on NetApp clustered Data ONTAP storage systems
Use NetApp technology for Oracle database backup, recovery, and cloning operations
Contenido del curso
This course provides instruction and hands-on practice to help you to learn how to implement an Oracle Database solution in a NetApp clustered Data ONTAP storage environment. In this class you practice discovering, planning, designing and provisioning an Oracle environment; install and configure an Oracle server; create an Oracle database; and use NetApp data management solutions to backup and restore your Oracle database.