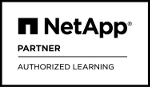 Cloud Volumes ONTAP Fundamentals
Prerrequisitos
A basic knowledge of ONTAP 9 software, Amazon Web Services (AWS), Microsoft Azure, and Google Cloud Platform is recommended.
Objetivos del curso
Describe the components of a Cloud Volumes ONTAP system
List the deployment topologies and options
Identify the various management methods and interfaces
Describe how data is managed in the Cloud Volumes ONTAP system
Follow On Courses
Descripción del Producto
This course describes the features and benefits of the NetApp® Cloud Volumes ONTAP® system. The course enables you to explain the architecture and functionality of cloud-based NetApp ONTAP storage. You also learn how to use NetApp Cloud Manager for basic administration, configuration, and management of the Cloud Volumes ONTAP system.
This course is designed for storage administrators of any experience level.