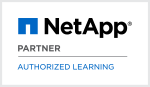 ONTAP MetroCluster Installation (MCCIIW)
Quem deve participar
NetApp employees, partner professional service implementation engineers and customers
Objetivos do Curso
By the end of this course, you should be able to:
Describe the major architectural components of a MetroCluster environment
Cable nodes, back-end FC switches and FibreBridge devices
Set up bridges and back-end FC switches
Configure the clusters at both sites in a MetroCluster environment
Set up a MetroCluster configuration and serve data to clients
Detect and recover from failures in a MetroCluster environment
Install and configure Tiebreaker software
Conteúdo do curso
MetroCluster software is a unique high-availability and disaster-recovery solution. In this course, you learn how to cable and set up a MetroCluster environment. Using active, participatory exercises, you practice the configuration and verification steps. You also learn how to identify component failures and practice recovery steps
Classroom training
Duração 2 dias
Click no nome da cidade para reservar
Agenda
Fast Lane will carry out all guaranteed training regardless of the number of attendees, exempt from force majeure or other unexpected events, like e.g. accidents or illness of the trainer, which prevent the course from being conducted.
Este é um curso Instructor-Led Online
Latin America
Brasil
2019-11-11 - 2019-11-12
Treinamento online
Fuso horário: America/Sao_Paulo
Língua do curso: Português
México
2019-10-14 - 2019-10-15
Treinamento online
Fuso horário: America/Mexico_City
Língua do curso: Espanhol