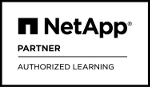 ONTAP Cluster Installation Workshop (COIW)
Quem deve participar
NetApp and partner PSEs who are responsible for system installation
Pré- requisitos
ONTAP Fundamentals (ILT)
ONTAP Administration (ILT)
Universal NetApp FAS Installation (WBT)
NetApp Installation Standard (WBT)
Objetivos do Curso
This advanced installation course prepares you to deliver ONTAP® system installation services in a way that meets NetApp® quality standards and uses NetApp best practices. With your laptop and the appropriate tools, you practice all installation tasks and set up NetApp storage controllers and shelves in a clustered configuration. You learn how to set up and test access to the system and the AutoSupport connection, and you learn how to conduct a customer handoff briefing.
This course focuses on enabling you to do the following:
Complete pre-installation tasks
List the cluster cabling options and restrictions
Install and update cluster and management switches
Install, configure, and test a two-node switched cluster
Provide a customer with the appropriate information when you are handing off a system
Treinamento online
Duração 2 dias
Classroom training
Duração 2 dias
Click on town name or "Online Training" to book
Agenda
This is a FLEX course, which is delivered both virtually and in the classroom.
Europa
França
Este é um curso FLEX.

Paris

Inscrever

Treinamento online

Fuso horário: Europe/Paris

Inscrever