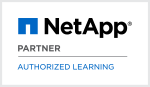 Element Software Administration (SFSA)
Quem deve participar
Element Administration is an intermediate course in a comprehensive learning path for NetApp customers, partners, and employees.
Pré- requisitos
Objetivos do Curso
This course focuses on enabling you to do the following:
Identify the basic hardware components of an Element cluster
Complete the configuration steps for a new Element cluster
Perform basic system administration tasks from the Element UI
Identify the Element data replication features for backup and recovery
Monitor the health and performance of an Element cluster
Use the Element API to perform basic system administration tasks
Conteúdo do curso
This two-day, instructor-led course uses lecture and hands-on exercises to teach basic administration of a NetApp Element software cluster in a SolidFire system. You configure and maintain a cluster. You practice working with Element software features, using the Element CLI and web UI to manage storage and network resources.
Classroom training
Duração 2 dias
Click no nome da cidade para reservar
Agenda
This class will become guaranteed to run with one more student registration.
Este é um curso Instructor-Led Online
North America
Estados Unidos
2019-10-03 - 2019-10-04
Treinamento online
Fuso horário: US/Eastern
Língua do curso: Inglês
2019-11-14 - 2019-11-15
Treinamento online
Fuso horário: US/Pacific
Língua do curso: Inglês
2019-12-16 - 2019-12-17
Treinamento online
Fuso horário: US/Central
Língua do curso: Inglês
Canadá
2019-10-03 - 2019-10-04
Treinamento online
Fuso horário: Canada/Eastern
Língua do curso: Inglês
2019-11-14 - 2019-11-15
Treinamento online
Fuso horário: Canada/Pacific
Língua do curso: Inglês
2019-12-16 - 2019-12-17
Treinamento online
Fuso horário: Canada/Central
Língua do curso: Inglês