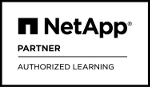 VMware vSphere on NetApp (VVNA)
Quién debería asistir
Data Center Operations Professionals
Cloud Infrastructure Architects
Cloud Administrators
Cloud Engineers
Storage Administrators
Prerrequisitos
System administration experience managing either the Linux or Microsoft Windows operating system
Completion of the VMware vSphere: Install, Configure, Manage (Version 6.0) (VICM) or equivalent experience.
Completion of the ONTAP Cluster Administration

(ONTAP9ADM)

or equivalent experience.
Objetivos del curso
Deploy a virtualized infrastructure using NetApp storage based on the feature integration that exists with VMware vSphere and NetApp ONTAP
Show a firm and practical knowledge of VMware services, protocols and connectivity options
Utilize NetApp vCenter plug-ins to ensure proper functionality and performance for virtual machines
Utilize NetApp Virtual Storage Console (VSC) to automate the backup, provisioning, machine cloning and host optimization configuration
Perform host monitoring on ESXi hosts and NetApp storage through a single-pane-of-glass. Optimize virtual machine performance and correct virtual disk misalignment.
Optimize NetApp Storage system connectivity, performance and reliability using Fibre Channel Protocol (FCP), FCoE, iSCSI, and NFS protocols.
Implement multi-tenancy through the use of vFilers or Vservers
Configure storage from the vSphere CLI or GUI in either NetApp clustered ONTAP or 7-mode
Install and configure NetApp vSphere plug-ins and utilize the features
Perform data storage networking for both iSCSI and NFS datastores
Manage virtual machine snapshots at both the virtualization and storage layers
Implement high availability and disaster recovery features
Contenido del curso
Managing a vSphere storage virtualization environment requires knowledge of the features that exist between VMware and NetApp to handle large data workloads. The VMware vSphere on NetApp training provides in-depth use of best practices to improve storage resource utilization, simplify operating system maintenance irrespective of the storage topology, data center operations simplification, and optimal use of your NetApp storage. The course covers the management of any cloud infrastructure using Clustered Data ONTAP 8.3 and the VMware vSphere 6.0 virtualization and management suite.

This hands-on 5-day class with hands on labs immerses you into the virtual machine management and storage operations spanning NetApp Data ONTAP, VMware ESXi with vCenter management. You will get a hands-on experience using the vCenter NetApp plug-in, the Virtual Storage Console (VSC), configuring and monitoring the VMware host settings, performing backups, restoration, and virtual machine cloning operations.
Entrenamiento en línea
Duración 5 días
Precio
Consulta precio y disponibilidad
Classroom training
Duración 5 días
Precio
Consulta precio y disponibilidad

NetApp Training Units:

60 NTU




NTU puede no tener el valor de rescate si es usado en un pais diferente a el que fueron adquiridos
Click on town name or "Online Training" to book
Calendario
Guaranteed date: Fast Lane llevará a cabo todos los cursos garantizados sin importar el número de participantes, excepto por razones de fuerza mayor u otros eventos inesperados, como e.g. accidentes o enfermedad del instructor, que eviten que el curso se realice.
Instructor-led Online Training: Este es un curso en línea Guiado por un Instructor
Este es un curso FLEX, que es entregado tanto virtualmente como en el salón de clase.
América del Norte
Estados Unidos de América
garantizado!

Entrenamiento en línea

09:00 US/Central

Inscripción

garantizado!

Entrenamiento en línea

09:00 US/Central

Inscripción

garantizado!

Entrenamiento en línea

09:00 US/Eastern

Inscripción

garantizado!

Entrenamiento en línea

09:00 US/Pacific

Inscripción
Canadá
garantizado!

Entrenamiento en línea

09:00 Canada/Central

Inscripción

garantizado!

Entrenamiento en línea

09:00 Canada/Central

Inscripción

garantizado!

Entrenamiento en línea

09:00 Canada/Eastern

Inscripción

garantizado!

Entrenamiento en línea

09:00 Canada/Pacific

Inscripción