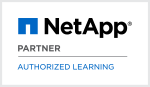 Configuring and Monitoring NetApp E-Series and EF-Series Storage Systems (CMESERIES)
Quem deve participar
This course is designed for Professional Services workers who are NetApp employees, NetApp partners, or NetApp customers.
Certificação
Este curso é parte das seguintes certificações:
Pré- requisitos
Basic Windows administrative experience
Objetivos do Curso
By the end of this course, you should be able to:
Identify and use administrative and support tools for E-Series storage systems
Install SANtricity Storage Manager software on host platform
Recommend and create logical configurations on E-Series storage system
Manage volume group and dynamic disk pools using SANtricity System Manager
Perform routine E-Series administrative tasks using SANtricity System Manager
Configure and administer E-Series features such SANtricity Snapshot image, volume copy and mirroring technologies
Collect E-Series storage system information such as the event log, profile and support bundle
Conteúdo do curso
In this course, you learn how to recommend configurations based on a pre-deployment assessment for a new NetApp E-Series or EF-Series storage system. In the deployment phase, you use both the NetApp SANtricity® storage management (v11.30) and system management software to create the configuration, perform administrative tasks and employ data protection features. During post-deployment, you use SANtricity system management software to collect storage system information for trend analysis, troubleshooting, performance monitoring and tuning.
Classroom training
Duração 4 dias
Preço
(excl. tax)
Treinamento online
Duração 4 dias
Preço
(excl. tax)
Click no nome da cidade para reservar
Agenda
Fast Lane will carry out all guaranteed training regardless of the number of attendees, exempt from force majeure or other unexpected events, like e.g. accidents or illness of the trainer, which prevent the course from being conducted.
Este é um curso Instructor-Led Online
This is a FLEX course, which is delivered both virtually and in the classroom.