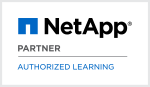 ONTAP Compliance Solution Administration (OCSA)
Quem deve participar
Data Protection Administrations
Security Engineers
NetApp Partners
NetApp Employees
Pré- requisitos
Objetivos do Curso
Describe the data protection features that are integrated into ONTAP 9 data-management software
Describe how to use SnapLock compliance software for data retention
Explain how to manage encryption keys
Explain how NetApp Storage Encryption (NSE) provides full-disk encryption (FDE) by using self-encrypting drives.
Explain how NetApp Volume Encryption (NVE) provides a software-based method to encrypt and protect data on any disk type.
Conteúdo do curso
The ONTAP Security and Compliance course describes the architecture and functionality of the integrated data protection security and compliance features and benefits in ONTAP 9 data-management software, including SnapLock software, key management features, and encryption technologies. The course also explains the administration, configuration, and management of the integrated data protection compliance features.
ONTAP Security and Compliance Solutions Administration is intended for data protection administrators of any experience level
Classroom training
Duração 1 dia
Treinamento online
Duração 1 dia
Click no nome da cidade para reservar
Agenda
This class will become guaranteed to run with one more student registration.
Este é um curso Instructor-Led Online
This is a FLEX course, which is delivered both virtually and in the classroom.