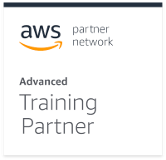 Developing on AWS (AWSD)
Quién debería asistir
Intermediate-level software developers
Certificaciones
Este curso es parte de las siguientes Certificaciones:
Prerrequisitos
Attendees should have the following prerequisites:
Familiarity with AWS services
A working knowledge of Java, C#/.Net, or Python
Objetivos del curso
Developing on AWS helps developers understand how to use the AWS SDK to develop secure and scalable cloud applications. The course provides in-depth knowledge about how to interact with AWS using code and covers key concepts, best practices, and troubleshooting tips. This course teaches you how to:
Set up the AWS SDK and developer credentials for Java, C#/.Net, Python, and JavaScript.
Use the AWS SDK to interact with AWS services and develop solutions.
Use Amazon Simple Storage Service (Amazon S3) and Amazon DynamoDB as data stores.
Integrate applications and data by using Amazon Kinesis, AWS Lambda, Amazon Simple Queue Service (Amazon SQS), Amazon Simple Notification Service (Amazon SNS), and Amazon Simple Workflow Service (Amazon SWF).
Use AWS Identity and Access Management (IAM) for service authentication.
Use Web Identity Framework and Amazon Cognito for user authentication.
Use Amazon ElastiCache and Amazon CloudFront to improve application scalability.
Deploy applications by using AWS Elastic Beanstalk and AWS CloudFormation.
Contenido del curso
Day 1: Building the Foundation
Introduction to Developing on AWS
Choosing a Data Store
Developing Storage Solutions with Amazon S3
Developing Flexible NoSQL Solutions with Amazon DynamoDB
Day 2: Connecting Applications and Data with Event-Driven Processing
Working with Events
Developing Event-Driven Solutions with Amazon Kinesis Streams
Developing Event-Driven Solutions with Amazon SWF, Amazon SQS, and Amazon SNS
Developing Event-Driven Solutions with AWS Lambda
Day 3: Developing and Deploying Secure, Scalable Applications
Developing Secure Applications
Caching Information for Scalability
Monitoring Your Application and AWS Resources with Amazon CloudWatch
Deploying Applications with AWS Elastic Beanstalk and AWS CloudFormation
Entrenamiento en línea
Duración 3 días
Precio
Consulta precio y disponibilidad
Classroom training
Duración 3 días
Precio
Consulta precio y disponibilidad
Click on town name or "Online Training" to book
Calendario
Guaranteed date: Fast Lane llevará a cabo todos los cursos garantizados sin importar el número de participantes, excepto por razones de fuerza mayor u otros eventos inesperados, como e.g. accidentes o enfermedad del instructor, que eviten que el curso se realice.
Instructor-led Online Training: Este es un curso en línea Guiado por un Instructor
Este es un curso FLEX, que es entregado tanto virtualmente como en el salón de clase.
América Latina
Brasil
Entrenamiento en línea

Zona Horaria: America/Sao_Paulo

Inscripción

garantizado!

Entrenamiento en línea

Zona Horaria: America/Sao_Paulo

Inscripción