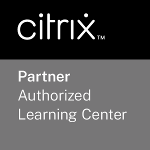 Deploying Enterprise Mobility Solutions with Citrix Endpoint Management (CXM-303)
Quién debería asistir
This course is designed for IT professionals, systems engineers, server administrators, and Citrix Partners who need to know how to deploy a XenMobile Enterprise solution.
Prerrequisitos
Citrix recommends that students bring a mobile device (iPhone, Android or Windows device) to complete device enrollment and Worx-related exercises. This device should not be enrolled in another MDM solution, or would need to be unenrolled in order to use it to complete the mobile device-specific class exercises.
Objetivos del curso
Designate the recommended XenMobile Enterprise end-to-end architecture and identify each component in the solution for the specific use case
Describe the new Architectural changes in XenMobile 10
Articulate the available XenMobile Editions and benefits
Understand XenMobile authentication options including PKI "certificate based authentication"
Understand the new improved multi-platform deployment features including new policies added in XenMobile 10
Install applications: MDX, Web & SaaS, Web Link, Public App Store Enterprise Apps
Integrate with NetScaler Gateway, using the NetScaler Wizard for XenMobile enhancements, Load Balancing, SSL Tunneling microVPN (mVPN), SSL Bridge
Understand the device enrollment process
Articulate the benefits of ShareFile in a XenMobile Enterprise solution
Apply the recommended processes and best practices involved in successful XenMobile Enterprise solution implementation, taking into account server placement and communication flows
Contenido del curso
This course provides the skills necessary to install, configure, and integrate components in a Citrix XenMobile 10 Enterprise solution. Students with limited or no XenMobile experience will gain an understanding of the components of a XenMobile Enterprise solution and their functions. Students will deploy and configure the XenMobile Enterprise components, apply principles to enroll mobile devices, install mobile apps, and use policies to manage device and application usage in a lab environment. In addition, topics such as how to integrate additional Citrix products and applications as part of the solution and how to troubleshoot some of the most common implementation issues will be discussed.

Students are expected to leverage their own mobile device (personal or corporate-owned, not already enrolled in another Mobile Device Management solution) to use during hands-on lab exercises.

Get hands-on experience with:
Configuring the XenMobile 10 Server (XMS)
Using the XenMobile Server Getting Started wizard
Configuring policies on the XMS
Adding categories and applications to the XMS
Assigning applications to delivery group(s)
Integrating NetScaler Gateway 10.5 with XenMobile 10
Enrolling devices – iOS, Android, and/or Windows
Integrating the XMS with XenDesktop
Configuring StorageZone Controller Servers and ShareFile Enterprise
Configuring NetScaler to load balance ShareFile
Configuring NetScaler Gateway to enable SAML SSO to the XMS
Configuring ShareFile Enterprise on the XMS
Entrenamiento en línea
Duración 5 días
Precio
(sin incluir impuestos)
Online Training:

US$ 2.500,-

Online Training:

US$ 2.500,-

Online Training:

US$ 2.500,-

Online Training:

US$ 2.500,-

Online Training:

US$ 2.500,-

Online Training:

US$ 2.500,-

Online Training:

US$ 2.500,-
Classroom training
Duración 5 días
Precio
(sin incluir impuestos)
Panama:

US$ 2.500,-

Argentina:

US$ 2.500,-

Chile:

US$ 2.500,-

Colombia:

US$ 2.500,-

Costa Rica:

US$ 2.500,-

México:

US$ 2.500,-

Perú:

US$ 2.500,-
Presionar el boton sobre el nombre de la ciudad para reservar
Calendario
Este es un curso FLEX, que es entregado tanto virtualmente como en el salón de clase.
Europa
Países bajos
Sep 7, 2020 ― Sep 11, 2020

This is a FLEX event

Utrecht

Lenguaje del curso:

Inglés

Inscripción

Entrenamiento en línea

Zona Horaria: Europe/Amsterdam

Inscripción

Dec 14, 2020 ― Dec 18, 2020

This is a FLEX event

Utrecht

Lenguaje del curso:

Inglés

Inscripción

Entrenamiento en línea

Zona Horaria: Europe/Amsterdam

Inscripción