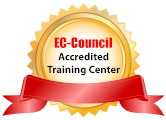 Certified Network Defender (CND)
Resumen del Curso
CND v2 is based on the cybersecurity education framework and work role task analysis presented by the National Infocomm Competency Framework (NICF). The program is also mapped to the Department of Defense (DoD) roles for system/network administrators as well as global work roles and responsibilities laid out by the revised NICE Framework 2.0
Quién debería asistir
CNDv2 is for those who work in the network administration/cybersecurity domain in the capacity of Network Administrator/Engineer, Network Security Administrator/Engineer/Analyst, Cybersecurity Engineer, Security Analyst, Network Defense Technician, Security Operator. CNDv2 is for all cybersecurity operations roles and anyone who looking to want to build their career in cybersecurity.
Objetivos del curso
What will you learn?
Network security management
Network security policies and procedures
Windows and Linux security administration
Mobile and IoT device security
Data security techniques
Virtualization technology security
Cloud and wireless security
Risk assessment tools
Basics of first response and forensics
Indicators of Compromise, Attack, and Exposures (IoC, IoA, IoE)
Threat intelligence capabilities
Log management
Endpoint security
Firewall solutions
IDS/IPS technologies
Network Authentication, Authorization, Accounting (AAA)
Contenido del curso
The Certified Network Defender (CND) certification program focuses on creating Network Administrators who are trained on protecting, detecting and responding to the threats on the network. Network administrators are usually familiar with network components, traffic, performance and utilization, network topology, location of each system, security policy, etc. A CND will get the fundamental understanding of the true construct of data transfer, network technologies, software technologies so that the they understand how networks operate, understand what software is automating and how to analyze the subject material. In addition, network defense fundamentals, the application of network security controls, protocols, perimeter appliances, secure IDS, VPN and firewall configuration, intricacies of network traffic signature, analysis and vulnerability scanning are also covered which will help the Network Administrator design greater network security policies and successful incident response plans. These skills will help the Network Administrators foster resiliency and continuity of operations during attacks.
Classroom training
Duración 5 días
Precio
Consulta precio y disponibilidad
Click on town name or "Online Training" to book
Calendario
Se garantizará la realización de esta clase con un registro más de estudiantes.
Este es un curso FLEX, que es entregado tanto virtualmente como en el salón de clase.