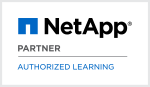 Clustered Data ONTAP 8.3 Administration and Data Protection (CDOTDP)
NOTE: This course has replaced !NA-DCADM. It combines the 3-day !NA-D8CADM and the 2-day !NA-DATAPROT.

*SPECIAL OFFERS*
Web Based Training including several FREE modules that support this course

Enhanced Labs and Content! Fast Lane has created additional hands-on labs for the NetApp Cluster-Mode Administration course. These labs create a more in-depth experience in the classroom and give you more skills in the work place.
Quién debería asistir
NetApp customers, partners, and employees
Objetivos del curso
By the end of this course, you should be able to:
Identify the components of a Data ONTAP storage environment
Install and set up a Data ONTAP cluster
Perform basic administration on a storage system
Configure physical and logical storage
Configure client protocols for a simple environment
Describe Snapshot copies and space consumption in Data ONTAP
Discuss backup methods that are available in Data ONTAP
Describe the process of upgrading Data ONTAP
Describe NetApp protection technology and the NetApp integrated data-protection solutions that are supported in Clustered Data ONTAP 8.3
Design, implement and manage Snapshot copies
Design, implement and manage Clustered Data ONTAP 8.3 SnapMirror replication
Design, implement and manage Clustered Data ONTAP 8.3 SnapVault replication
Use OnCommand System Manager to set up and manage backup and restore operations
Understand how to implement the NDMP protocol in Clustered Data ONTAP 8.3
Contenido del curso
This course uses lecture and hands-on exercises to teach basic administration of clustered Data ONTAP®. In this course, you will configure and manage a Data ONTAP cluster. You will practice working with Data ONTAP features and managing your storage systems with the CLI and UI interfaces. This course also discusses network management fundamentals, basic protocols that are used to access your data, and how to protect, manage, and monitor your clustered storage environment. Become proficient with Data ONTAP Snapshot®, SnapRestore®, SnapMirror®, SnapVault®, Open Systems SnapVault, and NDMP technologies used to replicate and restore mission-critical data in the enterprise. Backup and restore operations are taught using the NetApp storage system command line and OnCommand System Manager. The course also provides an overview of the Data ONTAP 8.3 MetroCluster solution. Data ONTAP 7-Mode administrators will benefit from comparisons to earlier Data ONTAP versions to help them master the basics of clustered Data ONTAP.
Classroom training
Duración 5 días
Precio
(sin incluir impuestos)
Entrenamiento en línea
Duración 5 días
Precio
(sin incluir impuestos)