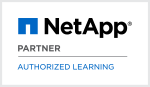 ONTAP 9 Data Protection Administration (DATAPROT9)
Quién debería asistir
Network Engineers
Channel Partners
Objetivos del curso
By the end of this course, you should be able to:
Describe the ONTAP 9 data protection features
Understand the various data mirroring relationships available with ONTAP 9
Configure and operate SnapMirror and SnapVault data replication
Demonstrate Storage Virtual Machine data protection
Explain the components and configuration involved with SyncMirror and MetroCluster
Describe NDMP protocol operation, configuration and management
Pre/Post Assessment
Contenido del curso
Coming soon....
The ONTAP 9.0 Data Protection Administration course was designed to teach the core technologies of ONTAP Data protection administration. You will learn how to implement and manage SnapMirror, SnapVault, and SnapLock technology which are used to replicate and restore mission-critical data in the enterprise. The course also surveys real-world scenarios and use cases to teach you when to use each of the NetApp protection solutions. Backup and restore operations are taught using the command line and OnCommand System Manager.
Classroom training
Duración 2 días
Precio
(sin incluir impuestos)
Panama:

US$ 900,-

Argentina:

US$ 900,-

Brasil:

3.489,- BRL

Chile:

US$ 900,-

Colombia:

US$ 900,-

Costa Rica:

US$ 900,-

México:

US$ 900,-

Perú:

US$ 900,-
Fechas y Registro
Entrenamiento en línea
Duración 2 días
Precio
(sin incluir impuestos)
Fechas y Registro
Presionar el boton sobre el nombre de la ciudad para reservar
Calendario
Fast Lane llevará a cabo todos los cursos garantizados sin importar el número de participantes, excepto por razones de fuerza mayor u otros eventos inesperados, como e.g. accidentes o enfermedad del instructor, que eviten que el curso se realice.
This class will become guaranteed to run with one more student registration.
Este es un curso en línea Guiado por un Instructor
Este es un curso FLEX, que es entregado tanto virtualmente como en el salón de clase.