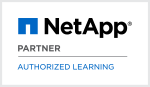 Designing the FlexPod Solution (FPDESIGN)
Quién debería asistir
Network Engineers
Network Administrators
System Engineers
Server Administrators
Certificaciones
Este curso es parte de las siguientes Certificaciones:
Prerrequisitos
Basic understanding of storage operations
Basic knowledge of server and server virtualization
General knowledge of networking technologies
Objetivos del curso
Describe the FlexPod Solution
Identify FlexPod Design Requirements
Identify the supported Cisco UCS components
Identify the supported NetApp storage components
Identify the supported Cisco Nexus components
Describe the FlexPod topology options
Describing FlexPod validated management solutions
Describe the FlexPod use case with VMware vSphere 6.0 and IP-Based Storage
Describe the FlexPod use case with Red Hat Enterprise Linux OpenStack
Follow On Courses
Contenido del curso
Designing the FlexPod Solution is a 2-day instructor-led course where you will learn to evaluate the FlexPod solution design process with regard to the contemporary data center challenges. The course provides a comprehensive understanding of the reconnaissance and analytics assess computing solution performance characteristics and requirements. In addition, this course will describe the hardware components of the FlexPod and the process for selecting proper hardware for a given set of requirements.
Updated features:
Cisco UCS
Cisco ACI Architecture
Nexus 9k
Microsoft Hyper-V and VMware 6
Red Hat Linux OpenStack
Entrenamiento en línea
Duración 2 días
Precio
Consulta precio y disponibilidad
Classroom training
Duración 2 días
Precio
Consulta precio y disponibilidad

NetApp Training Units:

24 NTU




NTU puede no tener el valor de rescate si es usado en un pais diferente a el que fueron adquiridos
Click on town name or "Online Training" to book
Calendario
Guaranteed date: Fast Lane llevará a cabo todos los cursos garantizados sin importar el número de participantes, excepto por razones de fuerza mayor u otros eventos inesperados, como e.g. accidentes o enfermedad del instructor, que eviten que el curso se realice.
Instructor-led Online Training: Este es un curso en línea Guiado por un Instructor
Este es un curso FLEX, que es entregado tanto virtualmente como en el salón de clase.
Europa
Eslovenia
Entrenamiento en línea

Zona Horaria: Europe/Ljubljana

Lenguaje del curso:

Inglés

Inscripción
Francia
Entrenamiento en línea

Zona Horaria: Europe/Paris

Lenguaje del curso:

Inglés

Inscripción
América del Norte
Estados Unidos de América
garantizado!

Entrenamiento en línea

09:00 US/Central

Inscripción

Entrenamiento en línea

09:00 US/Eastern

Inscripción
Canadá
Entrenamiento en línea

09:00 Canada/Central

Inscripción

Entrenamiento en línea

09:00 Canada/Eastern

Inscripción
Asia-Pacífico
Australia
Entrenamiento en línea

Zona Horaria: Australia/Melbourne

Inscripción