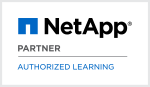 ONTAP Performance Analysis (PERFCDOT)
Quién debería asistir
Professionals who manage NetApp storage systems and would like a deeper understanding of Clustered Data ONTAP system performance.
Objetivos del curso
By the end of this course, you should be able to:
Describe how data flows through the network and protocol layers of clustered Data ONTAP
Define performance-related terms and describe basic methodologies
Identify the methods that can be used to monitor and analyze storage system performance
Explain how methods and tools can be used to collect performance data
Use command output to analyze system performance
Use command output from case studies to identify performance bottlenecks
Implement configuration for recommended practices for resiliency and performance
Locate resources and information that help you maximize system performance
Contenido del curso
This course provides you with the knowledge and skills that you need to collect and analyze system performance data from NetApp storage systems that are running clustered Data ONTAP. You learn how to interpret data and how to identify and implement changes that improve system efficiency. You also learn how to use system commands and features to monitor and enhance storage system performance using a combination of hands-on labs, case-studies, and technical discussion.
Classroom training
Duración 3 días
Precio
(sin incluir impuestos)
Panama:

US$ 900,-

Argentina:

US$ 900,-

Brasil:

US$ 900,-

Chile:

US$ 900,-

Colombia:

US$ 900,-

Costa Rica:

US$ 900,-

México:

US$ 900,-

Perú:

US$ 900,-
Fechas y Registro
Entrenamiento en línea
Duración 3 días
Precio
(sin incluir impuestos)
Fechas y Registro
Presionar el boton sobre el nombre de la ciudad para reservar
Calendario
Fast Lane llevará a cabo todos los cursos garantizados sin importar el número de participantes, excepto por razones de fuerza mayor u otros eventos inesperados, como e.g. accidentes o enfermedad del instructor, que eviten que el curso se realice.
This class will become guaranteed to run with one more student registration.
Este es un curso en línea Guiado por un Instructor
Este es un curso FLEX, que es entregado tanto virtualmente como en el salón de clase.