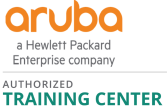 Configuring Aruba SD Branch (CASDB)
Course Overview
This 3-day course teaches the knowledge, skills and practical experience to set up, configure and troubleshoot an Aruba SD Branch installation. Using lecture and labs, this course provides the technical understanding and hands-on experience of configuring an SD Branch installation consisting of multiple WAN uplinks and Branch redundancy. Participants will learn how to use the Aruba Central cloud platform and specifically the Gateway Management app to install and build a complete, SD Branch network. In addition, this course covers monitoring and reporting and integration with other cloud based security vendors.
Who should attend
Typical candidates for this course are IT professionals who deploy distributed, small-to-medium scale, Branch networks. The ideal candidate will have previous experience installing, configuring and managing Aruba's Instant AP's and Aruba Switches with Aruba Activate and Aruba Central. We recommend that students have at least an understanding of Aruba Central as well as VPN networks, routing, and branch office networks.
Course Objectives
After you successfully complete this course, expect to be able to:
Explain how Aruba's SD Branch solution meets customers' requirements
Explain fundamental Aruba Branch technologies, Aruba Switches, and Aruba Instant Access Points.
Learn to configure the SD Branch network to control VPN tunnel termination.
Learn to configure the SD Branch network for both Underlay and Overlay routing.
Redistribute SD Branch routes through data center routing protocols such as OSPF.
Create Policy Based Routing policies.
Configure Dynamic Path Selection policies.
Monitor WAN Uplinks with WAN health checks.
Learn how to perform network monitoring functions and troubleshooting.
Course Content
Introduction to Aruba Central
Introduction to SD Branch
Monitoring SD Branch Deployments
SD Branch Configuration
SD Branch Routing
SD Branch Redundancy
SD Branch Troubleshooting
3rd Party Integration
Entrenamiento en línea
Duración 3 días
Precio
Consulta precio y disponibilidad
Classroom training
Duración 3 días
Precio
Consulta precio y disponibilidad
Click on town name or "Online Training" to book
Calendario
Instructor-led Online Training: Este es un curso en línea Guiado por un Instructor
Este es un curso FLEX, que es entregado tanto virtualmente como en el salón de clase.
América del Norte
Estados Unidos de América
Entrenamiento en línea

09:00 US/Central

Este curso será presentado por un socio

Inscripción