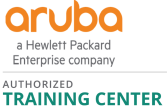 Managing Campus Networks with Aruba Central (MCNAC)
Course Overview
The Aruba Central instructor-led course covers the central campus cloud based management system that lets you centrally manage and monitor wired and wireless networks. This 2-day course covers the Aruba Central management service options for onboarding devices by managing Aruba Instant and Aruba Switches. Participants will view the advanced analytics services and connectivity health of devices and clients, providing insights into Wi-Fi analytics for smart business decisions. Understand how to simplify visitor access management with a fully secure and scalable guest access including guest cloud services. Through lecture and hands-on labs students discover the comprehensive alert management, device connectivity, network health, and user account activity with Aruba Central.
Who should attend
This course is ideal for technical personnel who want a deep-dive into Aruba Central and Network Administrators who need to centralize the management and configuration of Aruba IAPs and Switches.
Course Objectives
After you successfully complete this course, expect to be able to:
Be able to use Central and its features
Understand the differences between MSP and Central account
Be able to customize an MSP account
Create customers, groups and assign devices within Central
Be familiar with Onboarding devices into Central
Be able to describe different methods of Onboarding
Understand the purpose and uses for Groups, Labels and Sites
Be able to filter information using Groups, Labels and Sites
Describe the importance of Guest Access
Configure switches via Central
Be familiar with VRF and Heatmaps and know your network topology
Be able to plan a new network and know how to use network monitoring and troubleshooting.
View your network health and troubleshoot client issues
Maintain network security
Customize alerts according to your needs
Be familiar with your network applications
Identify non Wi-Fi issues
Be aware of the users passing by or entering your establishment
Be familiar with the UC dashboard
Use the UC dashboard to monitor UC quality
Be familiar with Central's administrative tasks
Know how to add admin users and new certificates
Know how to upgrade the network and create reports
Course Content
Introduction
MSP
Onboarding
Groups, Sites, Labels
IAP and Aruba Switch Configuration
Visual RF
Monitoring & Troubleshooting
Clarity, Presence analytic, AppRF
UCC
Administration and Maintenance
Entrenamiento en línea
Duración 2 días
Precio
Consulta precio y disponibilidad
Classroom training
Duración 2 días
Precio
Consulta precio y disponibilidad
Click on town name or "Online Training" to book
Calendario
Guaranteed date: Fast Lane llevará a cabo todos los cursos garantizados sin importar el número de participantes, excepto por razones de fuerza mayor u otros eventos inesperados, como e.g. accidentes o enfermedad del instructor, que eviten que el curso se realice.
Instructor-led Online Training: Este es un curso en línea Guiado por un Instructor
Este es un curso FLEX, que es entregado tanto virtualmente como en el salón de clase.
Europa
Alemania
garantizado!

Entrenamiento en línea

Zona Horaria: Europe/Berlin

Inscripción

garantizado!

Entrenamiento en línea

Zona Horaria: Europe/Berlin

Lenguaje del curso:

Inglés

Inscripción

Curso FLEX

Frankfurt

Inscripción

Entrenamiento en línea

Zona Horaria: Europe/Berlin

Inscripción

Entrenamiento en línea

Zona Horaria: Europe/Berlin

Inscripción

Curso FLEX

Hamburgo

Inscripción

Entrenamiento en línea

Zona Horaria: Europe/Berlin

Inscripción
América del Norte
Estados Unidos de América
Entrenamiento en línea

09:00 US/Central

Este curso será presentado por un socio

Inscripción

Entrenamiento en línea

09:00 US/Central

Este curso será presentado por un socio

Inscripción

Entrenamiento en línea

09:00 US/Central

Este curso será presentado por un socio

Inscripción