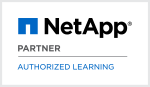 Integrating Hybrid Clouds with NetApp Data Fabric (INTHCDF)
Quién debería asistir
NetApp Employees, Partners and Customers
Prerrequisitos
Basic computer networking knowledge
Objetivos del curso
Explain the value of the Data Fabric and NetApp Private Storage for Cloud (NPS for Cloud)
Describe NetApp Private Storage (NPS) networking requirements
Deploy a hybrid cloud for customers
Configure an Amazon Virtual Private Cloud environment and an Azure Virtual Network environment for the hybrid cloud
Use PowerShell in a Data Fabric environment and extend customers' Microsoft Active Directory into the cloud
Explain the features of NetApp ONTAP Cloud software and NetApp ONTAP Select software
Use OnCommand Cloud Manager to deploy ONTAP Cloud instances and to create SnapMirror relationships between ONTAP Cloud software and data center clusters
Deploy a NetApp AltaVault appliance with Amazon Simple Storage Service (Amazon S3) buckets in AWS as backend storage
Use an AltaVault appliance to migrate data between AWS and Azure
Use the Data Fabric Solution for Cloud Backup to restore data
Use the Cloud Sync service to synchronize NFS data between on-premises storage and cloud-based storage
Follow On Courses
Contenido del curso
This course familiarizes you with NetApp hybrid cloud, Microsoft Azure and Amazon Web Services (AWS) solutions and shows you how to weave the solutions into the Data Fabric powered by NetApp. In numerous hands-on exercises, you use NetApp and third-party tools to practice how to manage, move and protect data throughout the cloud.
Classroom training
Duración 3 días
Entrenamiento en línea
Duración 3 días
Presionar el boton sobre el nombre de la ciudad para reservar
Calendario
Fast Lane llevará a cabo todos los cursos garantizados sin importar el número de participantes, excepto por razones de fuerza mayor u otros eventos inesperados, como e.g. accidentes o enfermedad del instructor, que eviten que el curso se realice.
This class will become guaranteed to run with one more student registration.
Este es un curso en línea Guiado por un Instructor
Este es un curso FLEX, que es entregado tanto virtualmente como en el salón de clase.