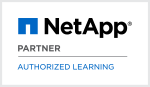 NetApp Portfolio: Exploring SAN Architectures and Configurations (SANARCH)
Quién debería asistir
Systems Engineer (SE), Customer
Prerrequisitos
NetApp Core Technical Training or equivalent knowledge
Basic knowledge of Data ONTAP OS
Basic knowledge of SANtricity OS
Basic knowledge of Mars OS
Objetivos del curso
Describe the SAN supported products in the NetApp portfilio: FAS (Data ONTAP OS), AFF (Data ONTAP OS), E-Series (SANtricity OS), EF-Series (SANtricity OS), and FlashRay (Mars OS)
Explore the storage architectures for Data ONTAP, SANtricity, Mars operating systems
Examine the features and basic configuration of a Data ONTAP SAN Solution
Examine the features and basic configuration of a SANtricity SAN Solution
Examine the features and basic configuration of a Mars SAN Solution
Describe scenarios which are better supported on Data ONTAP, SANtricity, and Mars SAN Solutions
Follow On Courses
Contenido del curso
This course is designed for the pre-sales engineer to make an informed decision of which product in the NetApp portfolio best fits the customers needs. The storage architecture of each SAN solution within the NetApp product portfolio will be examined. These products include FAS (Data ONTAP OS), AFF (Data ONTAP OS), E-Series (SANtricity OS), EF-Series (SANtricity OS), and FlashRay (Mars OS). The course will begin with a brief overview of SAN, followed by a comparison of each of the products architecture and implementation steps, and finally how to choose the correct product for a customer's SAN solution.
Classroom training
Duración 2 días
Precio
(sin incluir impuestos)
Panama:

US$ 900,-

Argentina:

US$ 900,-

Brasil:

US$ 900,-

Chile:

US$ 900,-

Colombia:

US$ 900,-

Costa Rica:

US$ 900,-

México:

US$ 900,-

Perú:

US$ 900,-
Presionar el boton sobre el nombre de la ciudad para reservar
Calendario
Fast Lane llevará a cabo todos los cursos garantizados sin importar el número de participantes, excepto por razones de fuerza mayor u otros eventos inesperados, como e.g. accidentes o enfermedad del instructor, que eviten que el curso se realice.
Este es un curso en línea Guiado por un Instructor
Este es un curso FLEX, que es entregado tanto virtualmente como en el salón de clase.